China to Be No. 2 Rice Importer for Third Year Running
As I mentioned about rice exporter last week which India is No.1 rice export following by Vietnam and Thailand, respectively. Today news is about rice importer. Reporter said that Chinese is No.2 rice importer for third year continuously. Although Chinese prefer to produce their own grain rather than import from abroad, however, sometimes due to the higher price in domestic they prefer to purchase form overseas.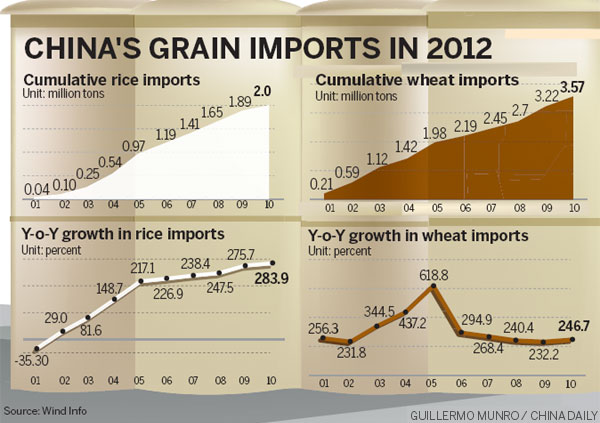 The International Grains Council forecast that China will import rice by 10 percent or around 2 million metric tons next year due to rise consumption and higher domestic prices. China ranks 2nd rice importer with 2 million tons while No.1, Nigeria imported 143 million tons of rice this year. However, the volume of import of China rose significantly fourfold, which it usually imported around 600,000 tons until last year, because local prices lost competitiveness against rice in neighboring countries. That led China's domestic rice prices have increased since the government has guaranteed to growers of the higher prices.
Nevertheless, Thailand plans to export 1.2 million tons of rice to China through inter-government deals and a contract with China's state-run Beidahuang Group. This is because Thailand is overflowing rice due to the government-buying program and also price guarantee.
Source: http://blogs.wsj.com/moneybeat/2013/09/27/china-to-be-no-2-rice-importer-for-third-year-running